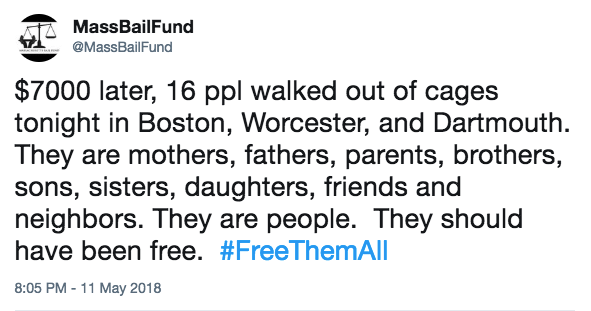 Imagine it's Friday evening and you're arrested on your way home. You spend the weekend in the police station. On Monday, the assistant district attorney asks the Court to set your bail at $500. The Judge agrees. You don't have $500, so you spend the next month in county jail. By your next court date your kids are in state custody. Your job and your apartment are gone. There's medication you need that you're not getting, and your health is suffering.
Pre-trial hearings stretch on for months; the prosecutor is slow to provide evidence to your lawyer. You're desperate to get out of jail and go home. It feels like your only option is to take a terrible plea deal: you'll be on probation with restrictive conditions and owe hundreds of dollars in fines and fees that you can't afford.  You'll  have a guilty conviction on your criminal record without a fair trial.
There are over 7,500 people in Massachusetts jails, and the majority of them are being held on bail – for weeks, months, and years. They are behind bars because prosecutors continue to request bails that people can't afford to pay.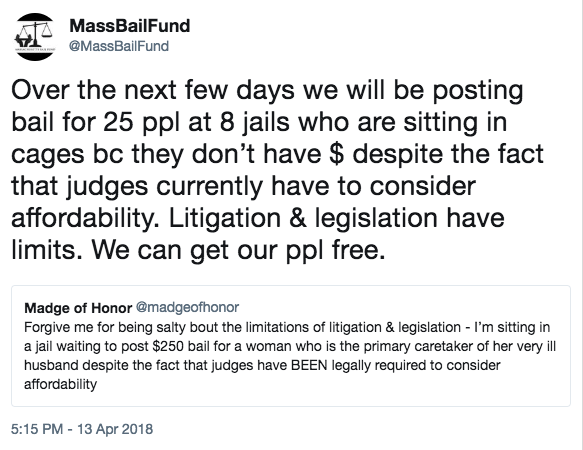 The Bail Fund posts bail for anyone who needs it, regardless of charge or past record.  60% of the people whose bail we post are people of color.  Many of our people are homeless, suffering from addiction, and living with mental health diagnoses.  94% of the people we post bail for return to court. When people miss court dates it's because they are coping with a medical or mental health issue, they can't afford transportation, or because they can't find child care or need to work.
The sole purpose of  bail in Massachusetts to ensure people return to court. Study after study, however, shows that people do return to court and failure to appear rates are incredibly low. Implementing supportive programs that address the barriers to appearing—like unstable access to transportation—greatly reduce an already small number.
Most notably however, is that 50% of the cases we post bail for get dismissed. Our neighbors would have languished in jail for months or taken terrible plea deals for cases the state ultimately decided weren't worth pursuing.  The main cause of bail injustice is that district attorneys prosecute too many people for too many things.
Requesting bail people can't pay is a way for prosecutors to win convictions.  Pre-trial detention is punishment for being arrested and accused of a crime – a punishment that is overwhelmingly and harshly levied against poor people and people of color in Massachusetts and across the country.  District attorney offices in our state do not have transparent, accountable, or equitable policies in place to govern bail requests.  Prosecutors dictate the playing field — the difference between a bail negotiation that starts at $25,00 versus $2,500 is profound.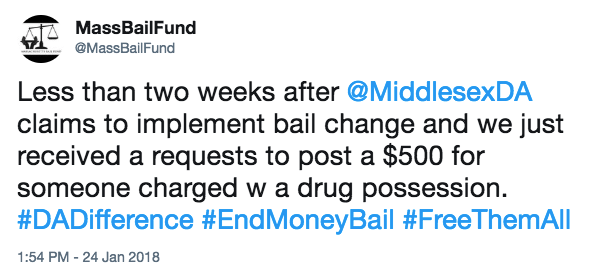 The insistence of prosecutors in Massachusetts on requesting unaffordable bail rather than recommending release erodes the presumption of innocence and all of our due process rights. When you're a poor person, a working-class person, a Black or Brown person, prosecutors in Massachusetts treat you like you're guilty as soon as you're arrested.
A person's ability to afford their bail must be considered by Judges in Massachusetts.  What does it mean to be able to "afford" bail? Should our neighbors be weighing the cost of their rent or their children's food against the price of their freedom? Should families have to hustle and grind to free their loved ones at the expense of their well being?
Massachusetts has a bail crisis. Unaffordable bails and plea deals are an inevitable outcome of a system that prosecutes hundreds of people a day.  DA elections gives residents the opportunity to tell candidates that the unjust bail system does not need reforming, it needs ending.
Prosecutors have the power to stem the tide of trauma caused by pretrial incarceration by requesting that people are released on their own recognizance. Prosecutors have the power to make sure that families stay together, our neighbors stay housed, and people stay employed. And we have the power to demand that candidates and incumbents fundamentally change the bail system in Massachusetts to account for the injustices they and their predecessors have inflicted on our neighbors.
Massachusetts Bail Fund volunteers spend dozens of hours every month in jail lobbies, waiting for our neighbors to be freed from cages. We hope this fall voters will confront the racially discriminatory and disastrous impacts of the cash bail system on our neighbors by electing district attorneys who have a concrete plan to end it.